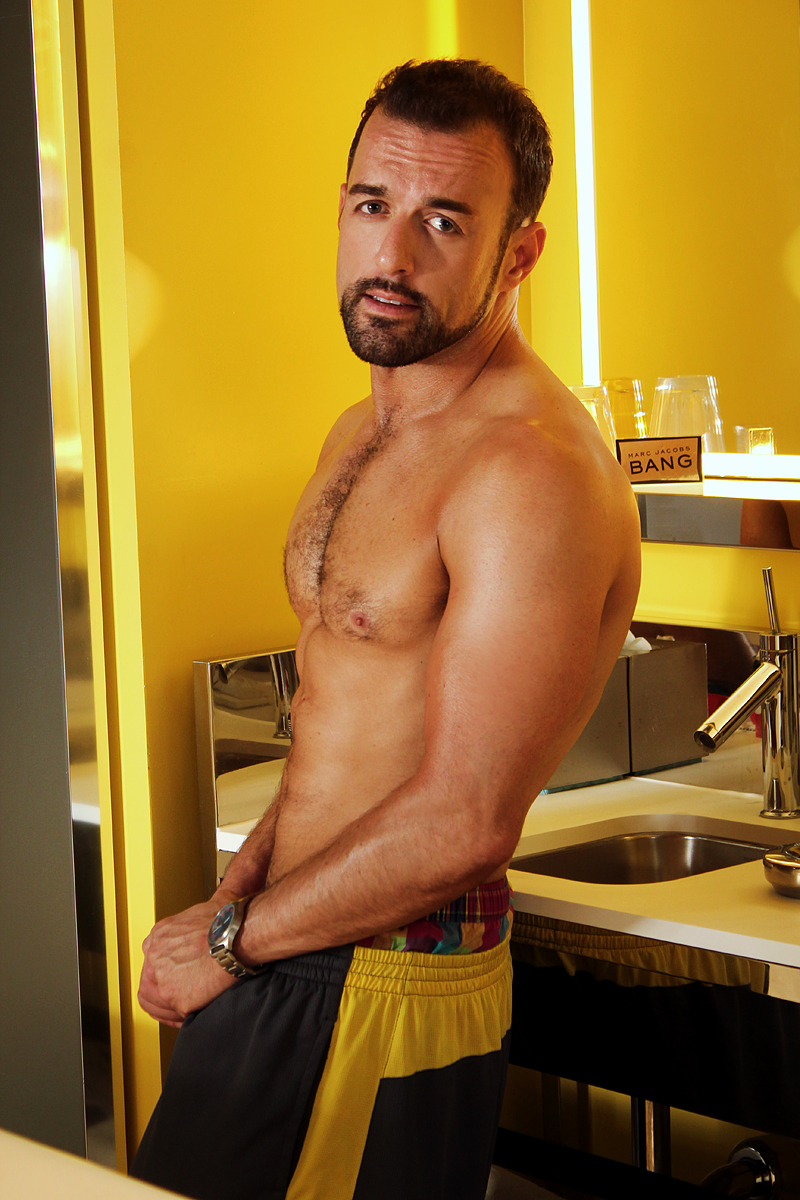 I was just told by my advisors that I should personally reach out to fans and give them a friendly status update. I was told I should do this to bring everyone up to speed on the status of our films, maybe announce a target date for our next release, and, if it wasn't too much to ask, answer some of the most common questions we've been getting. I immediately requested a list of these questions and I was told there were only a few so I'm going to make this as long as possible, ok?
First, I should tell you that I love interacting with our fans, be it on Twitter, Tumblr, in email enquiries or even by text message in the middle of the night (regarding Smoking Boyz). Either way, this intellectual intercourse with viewers who either like, love or hate my films has been a sound choice.
Frankly, it was at the advice of Paul Morris that I even began corresponding with viewers. I was unsure of what to expect from them. And we all know how I feel about not being in control. The thought of reading fan emails made me weak in the knees and sleepy. I mean, the only feedback I had to go on was the reaction within the industry, itself: The Vice President of APAC basically telling me to fuck right off; Hugh Hunter and his tweeted disgust sparked by his personal regret of having himself once been a confessed smoking boy; Trenton Ducati's warm hello that sounded an awful lot like, "You've got to be kidding me." Trenton if you're reading this, kill meth! Reactions like that. Strong reactions, you could say, but not from where I expected. I never expected rejection from my would-be colleagues. I guess I should have, but hindsight has always left me blinded. What I expected was controversy from the press. More indiginance from the loud and proud. More ruffled blogger feathers. More literary panties in wads. I mean, you know, with the pipes and the guns and the on- and off-camera beatings and everything like that. I'd hoped for loud controversy. Take-down pieces in Frontier. Adversarial write-ups in The Advocate. Sub-intellectual jibber-jabber from the likes of Zach Sire and his all-important column. Articles in the gay blogs that waxed with such cold, unmasked hatred they'd make HateCrimePorno look like Bambi on a hard day. I envisioned an industry incensed and uncharmed by this original content.
What I got from them was silent judgement. What I got was ultra-panned, or, as the gays call it, "the hand" which is such a bittersweet reckoning for a homophobe in gay pornos.  The one time the gays with microphones decided to keep their pie-holes shut… So, like a sexy Gargamel up on his hill overlooking Juzcar, I read fan mail purely out of interest in reactions to my films and I steered clear of responses. I felt lucky for the fact that adult-filmmaking came with a layer of insulation that escorting never offered.
I eventually  sat down to play with the fans, but I played my hand close to my vest. I may play a boastful homophobe on TV, but I happen to know that in real life, there is a list of things you can do to really piss-off the gays. Across the table insults are at the top of that list. Everyone knows these bitches will cut you for less, which is more than I can say for the gay porn media, who chose to take the high road and ignore me, thwarting my sincere attempt to stir up shit in an industry that thrived on mediocrity. Until now. Reader, let me tell you, their silence was enough to deter me from saying anything at all to anyone ever, outside of the films we'd produce. Until the advice came in from the Master himself, I let my admin handle viewer support. He still does, but on the hard days when I'm in the office alone, or in the studio parsing a film down to 3 second multi-angle clips, or in my sound room with nothing but a vaporizer loaded with hydro and a stack of messages, I like to read the emails and respond personally.
I enjoy this for two reasons: Primus, reading the fan mail does wonders for my ego because there isn't a rotten apple in the barrel. And secundus, the relentless praise and gratitude from fans makes the hard slap in the face with a dick that I got from the gay porn media the day I walked into the industry with balls bigger than anyone seem like a mere bad dream.
The fans love my films. They love me and they love James Lowes, the Stone Brothers and every politically incorrect verbal browbeating we give them. The fans send me ideas and compliments and they all wanna be in Smoking Boyz which both concerns and flatters me because they want to do it for free.
I'm sure this is nothing new. I'm sure that Previtus isn't the first gay porn studio to have boys throwing themselves in front of the cameras, hell-bent on being a part of the show, however, I'm just as sure that we are the first studio to put smoking boys in pictures…you know, where they oughta be?? So, of course, I'm flattered. And concerned. But only to a point…
Life doesn't imitate Art. It is absurd to imply that it does. Oscar Wilde's anti-mimetic philosophy is exactly the kind of half-baked, transcendentalist, Kantian bullshit that gets real men in trouble.  Wilde aims to displace Man to the servitude of Art, and in doing so, renders Art inconsequential. Art imitates life – and to think anything else is just plain insulting, moreso to a pornographer who pioneered the production of such so-called detestable imagery. In other words, I didn't invent this shit. I just tried it once at a party and lost my fucking head, okay? You try living in fabulous Las Vegas for a year and a half and see if you can manage to crawl through the wreckage unscathed. You try it and see if you don't suffer some sort of expansion. (Don't get crazy, nothing touched my ass.) You try living a year in Las Vegas and see if what happens there really stays there when you've been there that long. I mean, I didn't come up with PNP. I'm just telling you what I fucking saw! Wait?? Are we still talking about Art? I was just told I was supposed to be writing answers to questions. And that's exactly what I'm doing. Art imitates life and that's all there is to it.
Earlier this year, I attended the AFFLV (Adult Film Festival Las Vegas). Previtus Media submitted Tell Me You Love Me for consideration and the film took the award for Best Gay Feature. I showed up to accept the award with my COO and with Austin, my co-producer. They booked a room at the SLS Las Vegas – the same place I had an illustrious photo shoot a few years back with famed adult photographer, Bruno Talledo, a spread that elicited a fair amount of controversy for the fact I was holding a gun in every fucking shot and in one – I was even shirtless. Once we were checked into our suite at the SLS, the guys thought it would be funny to act like they had never heard of, let alone seen, the photo shoot I did there. Reader, suffice to say, not knowing would have been nearly impossible and if you've ever seen the rooms at the SLS, you'll know why. This particular suite has an open, yellow bathroom, so shocking it upstaged my handgun; a preposterous, lighted white bed, replete with dimming switch and a mirror above it; a lighted couch to match – and all of this rolled out in one, small room. Memorable decor, to say the least, in photos memorable enough to get them banned from almost every escort site on the web that year, save Adam4Adam, who kindly cropped the gun (a Glock, of course) out of each shot and re-posted them. Memorable enough to glean two nominations at the Rentboy sponsored 2015 Hookie Awards – one for Best Social Media and another (ahem) for Best Daddy. Sorry, Reader. Now, where was I?
Oh yes. Previtus Media won the 2018 AFFLV Award for Best Gay Feature Film. It was an honor. Really. Heterosexual accolades for a porn series that sensationalizes homophobic cops. And for our very first episode. I don't mind telling you, I found it all quite titillating. Then, we won the 2018 Raven's Eden Award for Best Fetish Film for Smoking Boyz – Let There Be Light, which I like to think had something to do with my expertise with a chicken bone and a camera, but who's counting hits? The truth is, the fans voted their favorites and you can't argue with that. I was a hit with the gays. It was confirmed; it was clear. When we started getting emails from fans wanting to blow me and James Lowes, the sting of the media's rejection started to fade. When we started earning nominations and winning awards in our first year of production, it was utterly forgotten.  
At the Adult Film Festival Las Vegas, I got what I fucking deserved. I sat in the theatre for 45 minutes of the screening of the 54-minute episode of my film before I realized that as soon as it was over and we were mingling again, everyone attending would know what my dick looked like. This extemporaneous exposure actually got me laid by two pornstars turned cougar who took time out from signing autographs with fans to thank me personally for my artistic endeavors which they described as, "so fucking hot, Miles." There, in the lobby of The Erotic Heritage Museum, my posse and I mingled with a careful selection of interested hetero-porn idols that drowned me in cocaine and accolades that felt better than all the b-grade, queer, methamphetamine and head you could find on all the other gay porn studio sets combined. In a nutshell, it was the warm welcome and everything I had hoped to hear from the gay media that, to date, still won't accept my money for advertising space.
After the festival was over, after the after-party and the party after that, I spent an evening at one of my favorite hotels in Vegas, The Cosmopolitan, with my third and final web developer, Chris from AltGirlMedia, who got me so plastered on top-shelf margaritas that I didn't even bother calling a cab. For three hours, he and my COO held me down and warned me that it doesn't take 7 months to edit a porno. They were right. It's taking much longer than that. But I'm so close. And I promise, when they see it – so worth it. So worth it..
I used the valet to park that night and when I finally found it, I crashed in the infamous yellow suite of the SLS. I awoke the morning after the night before with a healthy hangover that I nursed with hairs from the dog that bit me. Alone in that tweaker-chic budoir where I posed for photos that would define what would eventually become a hit adult series called HateCrimePorno, I stood wobbly at the window (which faced the back of another building) and imagined the city of Las Vegas that lay in front of it. I took a long drink from a ten dollar bottle of seltzer water that I splurged on from out of the hotel honor bar and I mouthed the words, "checkmate, faggots."
Miles Previtire
Providence, 2018
https://previtusmedia.com/wp-content/uploads/2018/10/4159FA59-B124-4E14-811A-3F6C962E79BD.jpeg
1536
2460
Miles Previtire
https://previtusmedia.com/wp-content/uploads/2017/05/previtus-media-header-logo-300x129.png
Miles Previtire
2018-10-21 21:13:04
2023-03-02 11:07:31
Remains of the Award Day